Farewell to disposable cups – pilot for refundable takeaway cups is coming to UniCafe Kaivopiha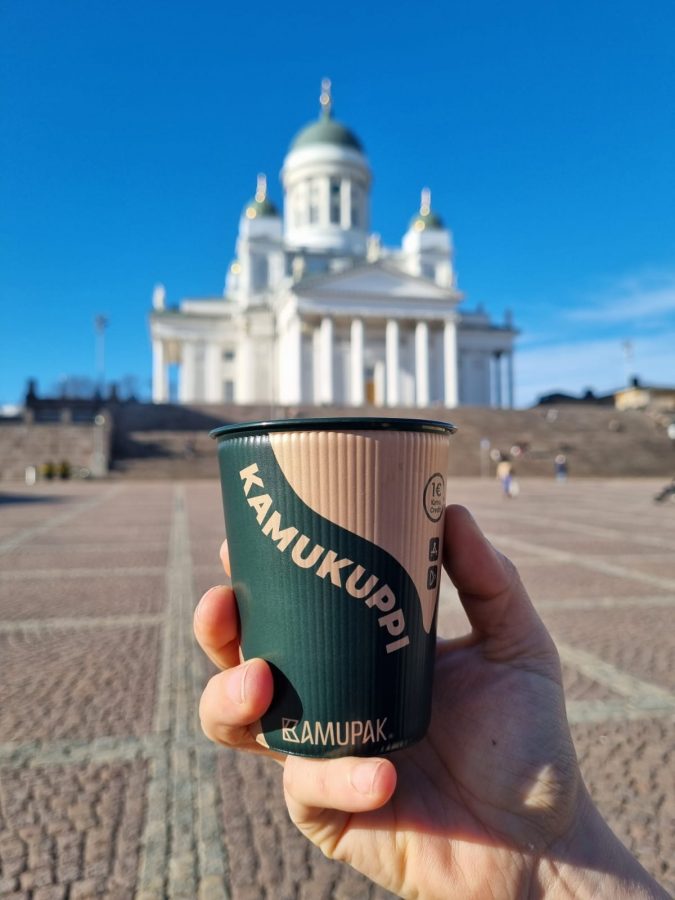 From Monday 3 May onwards, you can buy your coffee or tea at UniCafe Kaivopiha in a reusable KamuCup for which you pay a small, refundable deposit. UniCafe is taking part in a pilot for reusable takeaway cups alongside 13 other cafes and restaurants in Helsinki. The pilot is run by Kamupak and funded by the Ministry of the Environment.
During the pilot, it will be tested whether the use of disposable cups can be reduced by introducing refundable cups. The reusable cups are circulated using a mobile app and a deposit system.
"At UniCafe, we are working continuously to promote more sustainable choices. Each cup of coffee sold in our restaurants is Fair Trade and organic. Kamupak's pilot is an excellent opportunity to take a step towards even more sustainable consumption. We have been wondering for a long time how the number of disposable cups could be reduced. The upcoming pilot is a great way to see if our customers have any interest in a deposit-based system," says Business Director of Ylva's restaurants Leena Pihlajamäki.
A reusable cup is available for a one-euro deposit, and the cups can be returned to and obtained from any cafe or restaurant included in the pilot. In terms of eco-friendliness, it is estimated that a reusable cup beats a disposable cup already after 3–5 uses. According to the cups' manufacturer, Borealis, one reusable cup can be used as many as 500 times.
UniCafe participates in the trial in its Kaivopiha restaurant. The pilot is executed with funding from the Ministry of the Environment and runs from 3 May until 31 Aug 2021. Kamupak is one of the six operators to whom the Ministry of the Environment has granted funding from its Muovimiljoona aid scheme. The scheme is part of the execution of Finland's national Plastics Roadmap.
The pilot will test the customers' willingness to use cups obtained for a deposit as well as assess the cups' environmental impacts. The refundable cups will be available from the cafes participating in the pilot at least until 31 Aug 2021.
The deposit system is used in a mobile app. If they want, customers can pay the deposit and have it reimbursed in cash as well.
You can find more on Kamupak and a list of participating cafes here: en.kamupak.fi.
More information:
Jannica Aalto, Marketing and Communications Director, +358 45 134 7636 (media inquiries)