UniCafe to give up serving beef in its restaurants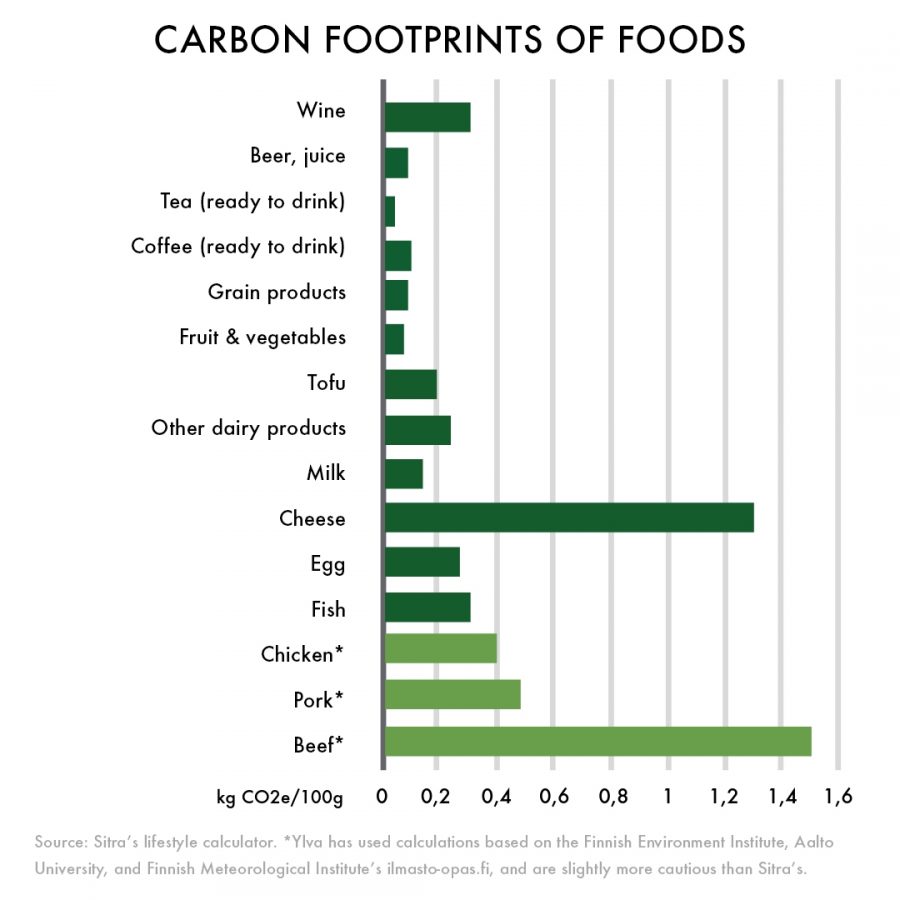 UniCafe restaurants will forgo serving beef entirely as of February 2020. Removing beef from the restaurant menus will reduce the carbon footprint of the raw materials in Ylva's restaurant business by 11% per year.
"We are giving up beef because doing so is one of the most efficient ways to reduce our carbon footprint. The change will be made according to our food philosophy: responsibly and without compromising the taste. Through ambitious product development, we have wanted to ensure that the options replacing beef are more delicious than ever", states UniCafe Business Director Leena Pihlajamäki.
UniCafe restaurants serve their customers on four different campuses at the University of Helsinki and in Kaivopiha in the city centre. The amount of lunches sold daily is around 10,000. Beef comprises 15% of the meat used by the restaurants. By removing beef from the lunch and café menus, UniCafe will reduce its own and its customers' carbon footprint by 240,000 kilos of carbon dioxide per year.
UniCafe and its owner Ylva are longtime pioneers in responsibility, and their recent responsibility work has concentrated on promoting carbon neutrality. One previous example of this has been their co-operation with Compensate, covering all business operations from real estate to accommodation. Several studies have shown that transition to a vegetable-protein-based diet is one of the most significant ways of reducing greenhouse emissions at the individual level. The initiative to remove beef came from UniCafe's personnel.
"Here at Ylva, we are committed to mitigating climate change in all our activities. Sustainable consumer choices in everyday life demand bold actions from companies, in connection with legislative changes at the national level. Giving up beef-containing products in our restaurants is one clear way of reducing our own carbon footprint as well as that of the citizens. But it is only one of the first steps on our path to carbon neutrality", Ylva's CEO Antti Kerppola comments.
The lunch menu coming into effect in February has been designed to completely omit dishes containing beef. Beef will also be removed from our café products, such as sandwiches and paninis. Forgoing beef is yet another concrete method taken by UniCafe to mitigate climate change. Early this autumn, UniCafe announced its objective of raising the share of vegetarian and vegan meals sales over the 50% mark by the end of 2020.
Additional information:
Leena Pihlajamäki, Business Director, UniCafe,
+358 40 725 2887
Antti Kerppola, CEO, Ylva
+358 45 353 2187
Antti Ruuska, Chief Sustainability Officer (calculation models)
+358 40 176 3142
Ylva's objective is to build an international and sustainable city of science and economy. Our business operations are focused on real estate and financial investments, along with the accommodation and restaurant business. We are owned by the students of the Student Union of the University of Helsinki. Ylva's turnover in 2018 was €33.5 million and operating result €5.5 million.
Background information:
The climate impact of beef is 15 kg CO2eq/kg, according to the Climateguide.fi publication jointly produced by the Finnish Environment Institute, Aalto University and the Finnish Meteorological Institute. Compared to other foodstuffs, this is a high figure. The corresponding figures for pork and chicken are 5 and 4, respectively.
The emission reduction figures Ylva uses have been calculated by replacing beef with either chicken or pork. The replacement meals have been designed with taste as priority. In the best-case scenario, the customer will choose the vegetarian meal option, which would make the emission reductions even greater than estimated.