UniCafe renewed its Luomu SM victory for the seventh time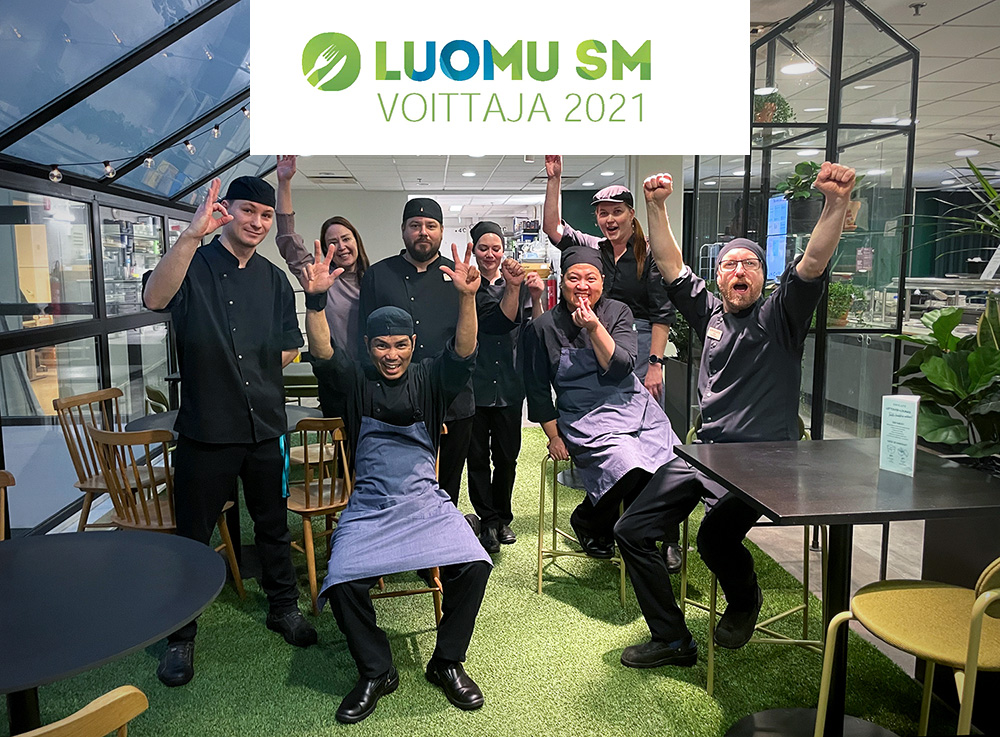 UniCafe has achieved its seventh Luomu SM (Organic Finnish Championship) victory in a row. The championship was won with a 6 per cent organic share in ingredients purchases. The contest assessed the use of organic products during 2020.
"We were very pleasantly surprised by the victory as due to the pandemic, the year 2020 was catastrophic for the entire restaurant industry. Even though the number of organic kilogrammes was significantly reduced at UniCafe as well, our determined groundwork and carefully planned product selection carried us through to victory this time too. We do not want to compromise on sustainability even in tough times," rejoices Business Director Anne Immonen.
In 2020, the UniCafe restaurants were closed from mid-March to early August. During that time, ready-made lunch meals were sold from the Foodvan that went around various campuses. In June, lunch could also be picked up from UniCafe Kaivopiha and Chemicum.
A few restaurants were reopened in August but, in October, the doors had to be closed again due to COVID restrictions. In November and December, the operations were practically relying on the takeaway sales of two restaurants.
"Milk and side salad produce along with the cafe and event products constitute the most significant part of the organic products used by UniCafe. In 2020, these had an active selling period of approximately three months," summarises UniCafe's Product Development and Purchasing Manager Susanne Reiju.
The eighth Luomu SM contest was organised in exceptional circumstances
This year, restaurant and food service operators competed for the Luomu SM title for the eighth time. There are three groups for both the private and the public sector in the contest. The group is determined based on the number of meals served by the restaurant or food service operator in a year. UniCafe competed in the group of Largest private operator.
"Because of the unusual year, we considered not organising the contest at all. However, the encouraging feedback from the operators resulted in it being organised this year as well. Many were forced to keep their restaurants closed due to COVID, so the use of organic products was assessed proportionally to the whole year based on the information we received from the operators," explains Anu Arolaakso, Project Manager of the Steps to Organic programme behind the contest.
UniCafe joined the Steps to Organic programme in 2013. The share of organic products in all UniCafe restaurants is increased systematically. The selection now covers around 200 different products.
The results of the Luomu SM contest were announced on Wednesday 27 Oct as part of the virtual Organic Food Product Day event. The contest's winners were selected from among the around 200 food service organisations in the Steps to Organic programme. The shares of organic products were calculated from the purchase statistics supplied by the professional kitchens. The Luomu SM contest of professional kitchens has been organised since 2014.
More information:
Anne Immonen
Business Director, restaurants
+358 40 512 5008
anne.immonen@ylva.fi
Susanne Reiju
Product Development and Purchasing Manager
0400 576 283
susanne.reiju@unicafe.fi