Enjoy a carefree lunch in our restaurant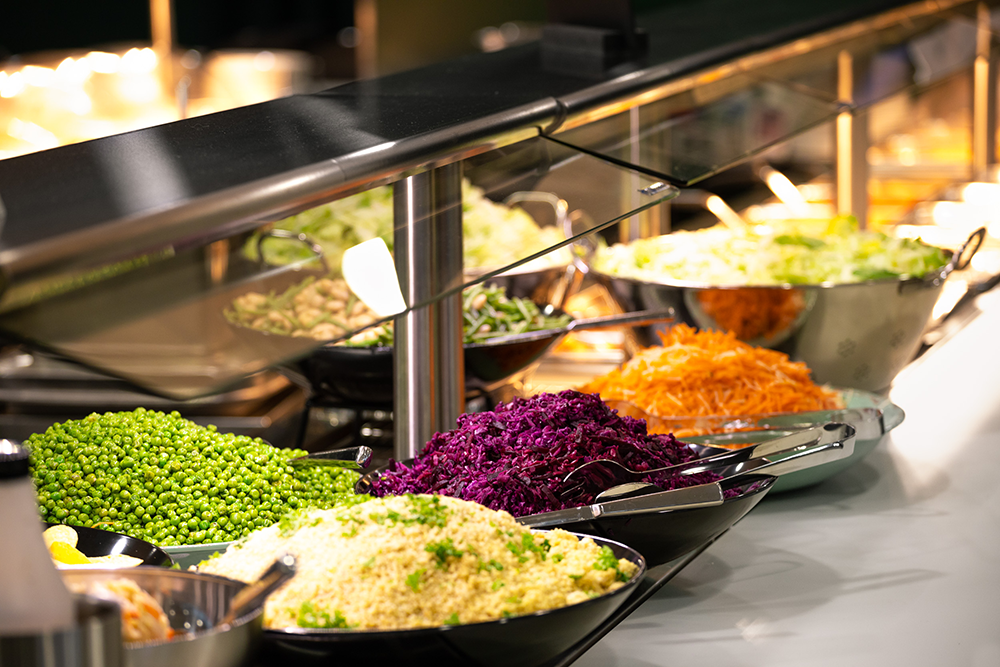 Since the beginning of June, it has once again been possible for restaurants to serve their customers inside restaurant facilities as well. The health of our customers and staff is very important to us. We are taking the following measures to ensure that your visit to our restaurant goes as safely as possible.
Visiting the restaurant
Our customer path has been carefully designed, and customers are reminded to keep a safe distance to others e.g. with floor stickers.
Our menus are displayed both on our website and in the restaurant.
If you are worried about enjoying your meal in the restaurant facilities, you can still also buy chilled and individually packed lunches from us to take out.
Our entire staff wear disposable protective gloves.
Our service lines, tables and door handles (entrance/toilet doors) are cleaned at frequent intervals with a disinfectant.
We only accept card payments. Our payment terminals are cleaned and disinfected at frequent intervals.
There is hand sanitiser available to customers both in the entrance lobby and e.g. at the checkouts.
Working with foodstuffs
We are paying special attention to good workplace hygiene as well as our employees' personal hygiene.
When working with foodstuffs, we emphasise the following practices:
We underline the importance of careful handwashing. There are illustrated instructions in the restaurant kitchen on how to wash your hands correctly.
We wear protective gloves and change them frequently.
We are very careful about cough and nose-blowing hygiene; we avoid touching our face.
We avoid touching any foodstuffs unnecessarily with our hands.
We make sure our equipment, knives, chopping boards, etc. are washed at short intervals.
When using disinfectants, we prevent their contact with foodstuffs.
We advise any outsiders coming into the kitchen, such as maintenance or repair personnel, about the necessary practices (protective clothing, safety distances and hand hygiene).
 Customer checklist
Let's look after everyone's safety together!
Healthy visitors are welcome. Please stay at home if you have any symptoms associated with corona:
cough, sore throat, fever, shortness of breath, muscle pain, stomach trouble, headache.
Maintain good hand hygiene. Please use hand sanitiser!
Cough and sneeze correctly
If you sneeze or cough, use a disposable tissue. If one is not available, cover your mouth with your elbow.
Remember the safety distance
Please keep a safe distance (1–2 m) to other customers and to our staff. While enjoying your meal, please only sit with your own company.
We only accept card payments
Please only touch what you must